Sparkol's Year in Review: 2021
Naomi Linford Dec 13, 2021 5:04:00 PM
We think you'll agree, 2021 has been a bit of a whirlwind... (understatement of the century). From pivoting our products and services to help those still in lockdowns, to celebrating the incredible achievements of our customers and community, it's been an unpredictable ride!
But as we near the end of the year, we wanted to take this opportunity to reflect on all we've achieved together. And say some important thank yous...
With that, we want to say a big thank you to all our customers and partners who've worked with us this year. Seeing you achieve success with our animation tools and custom videos is what it's all about!
Now, let's take a look at what else has happened this year...
Turn up the WOW online event
We kicked things off with our first completely online event, Turn up the WOW. The response to this week-long event amazed us - thousands of you registered your place at our various workshops, seminars and round tables. Covering everything from storytelling and storyboarding to video metrics, animation techniques and more.
We saw awesome presentations from speakers like VideoScribe Awards winner, Carole Alalouf, VideoScriber and Barrister, Christian Weaver, our own CEO, Zoe Taylor plus lots lots more.
Now we know what you're thinking... 'wait, I missed it - can I still catch up?'. The answer is YES! You can still watch all the recordings by clicking here.
Sparkol's new look
We also thought it was time for little face-lift... with that we welcomed in our new Sparkol branding and website!
Our team, community and customers have grown so quickly over the last few years, we realized we needed to take a moment to reflect on our journey and where we're going next. Our new branding reinforces who we are, how we help our customers create jaw-dropping animations and our growing suite of software and professional services.
...it doesn't hurt that it's pretty too 👀👇
We welcomed lots of new Sparkol-ers
Throughout the year our team also grew considerably. We welcomed new Sparkol-ers to almost every department including product geniuses, development wizards and marketing mavericks.
Without our awesome people we wouldn't be able to deliver the tools and services we do. So thank you to all our hard-working teams for all that you do 👏
You can learn more about our new starters in our regular 'Meet the new faces at Sparkol' blogs. Check out the latest one here where we meet Bella and Glenn 👇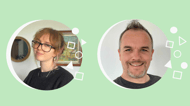 Supporting UNICEF on Giving Tuesday
While the holiday period is a chance for you to snag our animation tools at a discount, it's also an opportunity for us to do some good. Which is why this year we donated 5% of all VideoScribe sales to UNICEF for Giving Tuesday.
UNICEF supports millions of children around the world providing essential access to food, water, sanitation, education and more. We're super proud that we were able to support them this year, donating to their incredible work 🙌
Sparkol Studio's new website
We're rounding out the year with another new website. This time it's for our bespoke animation agency, Sparkol Studio. The Studio team have created some incredible animations for our clients this year and their work deserved it's own dedicated platform. So say hello to the Sparkol Studio website!
It's packed with examples of our recent animation projects, takes you behind the scenes and helps you get to know our talented team even better 💗
That's a wrap! While 2021 had its up and downs for all of us, we're super proud of what we've achieved together and we can't wait to see what 2022 holds!
Happy New Year from all of us 🎉