That's a wrap on our virtual event: summaries, highlights and more!
Naomi Linford Mar 9, 2021 3:23:56 PM
Last week we kicked off our big virtual event, Turn up the WOW! It was a week jam-packed with sessions and workshops covering all areas of video with some awesome guest speakers 🙌
If you joined us live, firstly thank you, we really appreciate you taking the time to get involved. Secondly, we hope you enjoyed the event and left with new ideas and inspiration for how you can level up your video use in 2021.
But, we know life is busy (understatement of the century) and you might not have had a chance to check out the full agenda. So today we're reflecting on all the lessons we learnt and sharing the highlights with you.
Theme 1: Storytelling
Storytelling is a major part of communicating effectively which is why we wanted to make it a core theme for the week. But there were some extra nuggets of storytelling goodness that we had to share again!
Takeaway 1: Never underestimate the power of stories
We kicked the week off with a panel discussion where some of the Sparkol team shared what they love about storytelling. Fundamentally, stories spark emotions - even if those are frustration and annoyance (as we're sure we've all felt watching insurance ads).
But we could probably all name the adverts that have aggravated us, and that's because they sparked an emotional response! So consider how you can use stories to make your audience feel something - from joy to nostalgia and anything in between!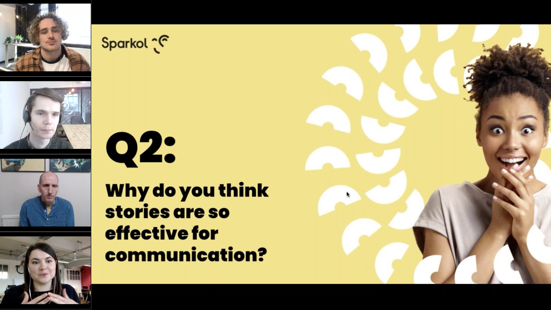 Takeaway 2: You can find stories EVERYWHERE
We had to put that in capitals because we feel THAT strongly about it 😂 But seriously, don't think you have to write the next Harry Potter novel to be a storyteller. As our guest speaker and professional storyteller, Sarah Archer showed, you can find stories everywhere.
It could be a story about you, your colleagues, your customers or an inanimate object. We're all telling a lot more stories than we think - it's just a case of committing those skills to your communications. Also, remember stories can be super short. It's just about creating enough intrigue to keep your audiences hooked. We love Sarah's example below for this 👇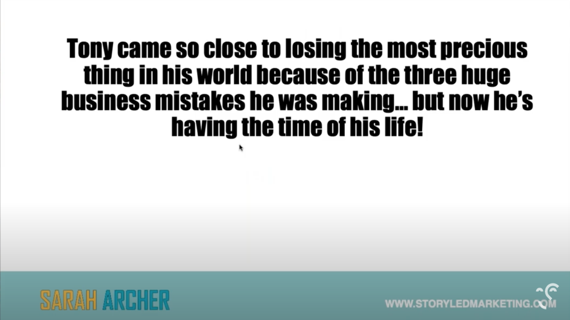 Takeaway 3: Don't forget about your audience
All the while you're developing your story - Carole Alalouf reminded us that it's crucial to keep your audience in mind. We naturally alter the way we speak to suit our audience in our personal lives but it can go out the window when we're communicating in a professional setting.
So consider what would resonate with your audience best, what they already know about your topic and what they care about. After all, you wouldn't feed salad to a lion... 👀
Theme 2: Video creation
Once you've got an idea for the story you want to share, it's all about crafting the perfect video. This was another major theme for the week and we looked at this from a high level view all the way down to tutorials on how to actually build your animations in VideoScribe. But for us there were a couple of key messages that really stood out...
Lesson 1: Creativity takes time
When chatting to Louis and Oliver from our Sparkol Studio team in our panel discussion, they highlighted the fact that even as professional video creators, inspiration doesn't always hit exactly when you want it to.
Creating unique and impactful videos takes time. We heard from lots of our guest speakers about their own creative process and it often starts with research and as Carole said, developing an understanding of your audience, the angle for your topic and perhaps what's topical.
From that base you can start building your script, storyboard and eventually your video. But don't feel like you have to rush those steps. Take breaks, seek new inspiration and be patient with yourself while you hone and refine your ideas.
Think of it as one big funnel with lots of ideas going into the top and being refined down as you craft your final message and content.
Lesson 2: You can bypass blank screen fear!
Plus, it was great to hear lots of our speakers give their tips on how to kick start the creative process without even hitting a blank screen.
Our Head of Customer Success, Jonny Finch walked us through the quick and easy process of turning your existing PowerPoint presentations into engaging animated videos - all in just 30 minutes. So not only do you already have the content ready to go, but you can bring new life and value to existing material. That's a win-win in our book 💥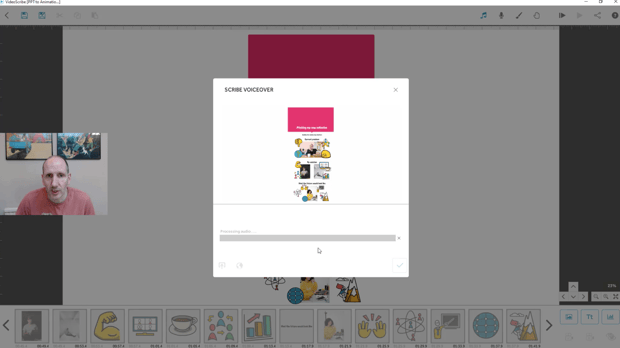 We also highlighted lots of our pre-made video templates available in VideoScribe and Scribely that can get your creative juices flowing. Just log in, choose the template you like and get editing. It's as easy as that!
Theme 3: How and where to use video (...everywhere!)
Then of course, we couldn't not talk about where to actually use your videos. Our guest speakers really opened our eyes to more varied and creative ways to use video in your day-to-day personal and professional life. Let's look at some of our favorite examples.
To educate:
The Law in 60 Seconds founder, Christian Weaver is a Barrister by day and a content creator by night. Helping people learn about the law and their rights in just 60 second videos like the one you can see below. What started out as a side-project to spread knowledge has actually landed Christian a book deal in the process as his videos have been picked up by the BBC and more. Just showing the power of video!
If you haven't already checked out Christian's session, we highly recommend taking 30 minutes to watch it.
To promote your business:
We know that people are watching more online videos than ever which makes it a prime opportunity to showcase you, your products or services. The statistics that Adapt's, Heidi Hopwood shared showed just how in demand video is with people now watching 16 hours of online video per week - up 50% on two years ago.
With the growth only set to continue, if you're not currently sharing your video content on your digital channels, you could be missing out. But it's not just YouTube, your website and on blogs you can share videos, think about your advertising too.
Heidi explained that social media ads with video perform the best in terms of engagement compared with image or text posts. So try mixing your digital advertising up with animated content that will make your money work harder.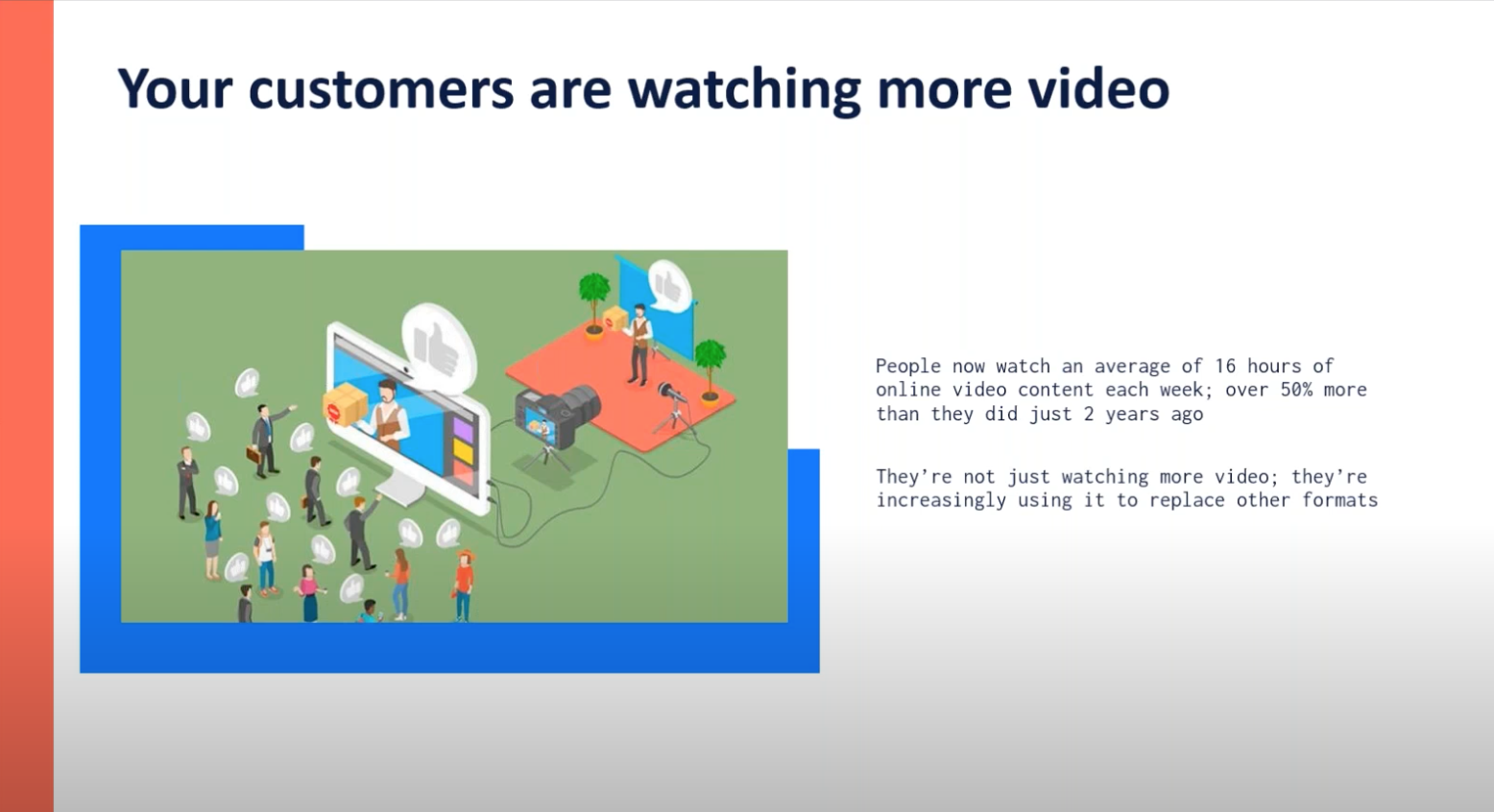 For internal communications:
Last but by no means least, CESO Innovation Director, David King found that videos were the best way to communicate internal changes to keep remote colleagues in the loop. He found that emails were easily ignored (we've all been there) and couldn't effectively communicate the value of change and what it meant for their teams.
So if you don't already use video in your internal communication - experiment with animated updates for your colleagues.
And that's a wrap! Those were our key takeaways from Turn up the WOW. If you joined us live, what was your favorite message? Comment and let us know.