Meet the new and improved Scribely!
Naomi Linford Oct 15, 2021 12:00:04 PM
If you're already a Scribely Creator, you'll have noticed a few changes around here... 👀
But for our readers who are less familiar with our online video creator, we want to bring you up to speed with the latest new additions. So, first things first - what exactly is Scribely?
Scribely is our completely online animated video creator. Designed to be used on any device to quickly and easily create impressive animated videos. With extra features like a range of canvas sizes, it's perfect for creating content for social media and more. Plus, it's free to use - just make an account to try it for yourself 👇
So, what's changed? Not only have we given our Scribely logo and branding a makeover but there are a whole heap of new features and tools to make creating impressive videos even faster and easier.
In this blog we're recapping all the latest additions and upgrades that you don't want to miss!
Say hello to Scribely's new look and feel 👋
Over the last year Scribely has continued to develop and evolve into a one-stop-shop for creating killer videos. With all these new capabilities, our old branding didn't reflect the true creative potential Scribely now has.
So, drumroll please... 🥁 We'd like you to meet the new version of Scribely that's packed with as many fun colors, effects and illustrations as Scribely 🙌
New Scribely tools that make video creation effortless
But the changes aren't just skin deep! We've been working on a whole host of new features and tools to ensure making videos with Scribely is not only easy and quick, but fun too. Let's take a look 👇
Quick-start video templates
Firstly, there's a ton of new ready-made video templates to explore. If you're short on time or not sure where to start with your creation, these templates are for you! They set the stage for your content so all you have to do is click to edit the details like text and colors.
Plus, there's templates covering all sorts of topics from education and training to social media marketing and seasonal content. Just browse by category to find the one that's right for you.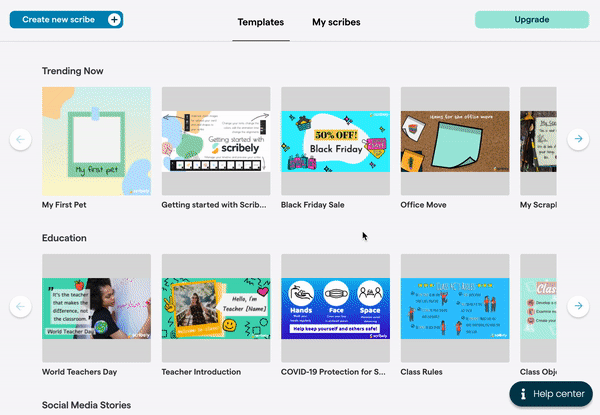 Log into Scribely or create your free account to access all of the templates 🌟
New audio recording suite
The visuals in your video are only half of the story. Often, a voice-over and/or background music complete your narrative so ensuring you can easily record or upload high quality audio is one of our top priorities.
Which is why we've added a brand new audio recording suite with the option to record your own voice-over and background music straight from Scribely. So no more switching in and out of apps - you can now create your entire animation all from one place. Check it out 👇
Fully customizable color changing images
We're probably saved the best for last... you can now customize the color of our Scribely images!
Hello unlimited creative potential 🙌 Make your video truly yours by editing the colors of your images to match your brand guidelines or your own personal preferences.
Just click on an image to see how many of the colors you can edit and get customizing!
To check out the new Scribely for yourself, simply log into your account or create a free one here 👇