Meet our creative animators and discover their storytelling secrets
Naomi Linford Aug 25, 2021 5:11:05 PM
We might be a *tiny* bit biased but we think of our animators as magicians. They take narratives, messages and ideas (however complex or dry) and transform them into mesmerizing animated videos. If that isn't magical, we don't know what is? 🤷‍♀️
From 3D animated worlds to addictive whiteboard animations, our talented Sparkol Studio team have the power to WOW with work like this 👇
Which is why we wanted to take you behind the scenes to get to know them better. Read on to discover our incredible team of animators, learn what makes them tick and what advice they'd give fellow visual storytellers ✨
Meet our animation team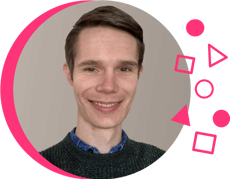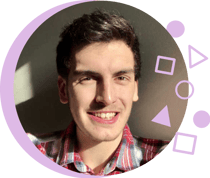 Louis Domaille Oliver Luddy Callum Davies

Alex Lloyd Bella Bernard
Let's get into the questions!
Q1: What made you want to become an animator, and how did you get started?
Louis: It all started trying to re-make scenes from Indiana Jones with my Lego. The dream hasn't really changed much since then...
Oliver: I loved to draw cartoon characters and comics when I was younger, so when I decided to specialize in film, animation seemed like the next logical step. Animation allows you to explore and create the impossible in motion - go as far as your imagination will take you!
Alex: I was drawn to animation because it's a fantastic way to express ideas and tell stories, the potential for creators is limitless.
Bella: I literally could not stop myself from drawing so I thought I'd choose a career that requires hundreds of drawings a day!
Callum: I decided that I wanted to get into animating whilst I was studying for my degree at university. The broadness of my course allowed me to delve into many different disciplines, one of which included, animating! I loved the module so much that it became something I wanted to pursue as not only a hobby but a career choice. I spent some time teaching myself techniques and that's really how I started out. Sparkol gave me the opportunity to develop my skills further and since then I haven't looked back!
Q2: What animation are you most proud of creating?
Louis: My favorite projects are often personal side projects where I get to learn something new or explore a new style that I can then bring to client projects.
Oliver: I remember visiting a museum as a teenager and envisioning Kandinsky's paintings as moving musical pieces, Fantasia-style. Years later at university, I was able to bring my idea to life, with chalks, paper cut-outs, and an upbeat jazz rhythm! Each instrument and melody corresponded to shapes and colors onscreen!
Alex: I'm really pleased with how my climate change video turned out. I think it works quite effectively.
Bella: I'm most proud of my graduation film 'Kid Stuff', there's so many things I would change looking back but I loved the journey I had with the characters. I have a big soft spot for it.
Callum: I'm most proud of my Top 5 Pharma video, it really allowed me to put all that I'd learnt into practice!
Q3: Who's your biggest inspiration in the world of animation?
Louis: I really like the work being done by the crew at Aardman, particularly director Gavin Strange who has a great outlook.
Oliver: Glen Keane's emotionally resonant work at Disney drew me into the art of character animation as a teenager. Since then, I've found inspiration in all kinds of places - from the late Richard Williams' fluid characters and camera movements to Joel Haver's off-kilter rotoscope skits.
Alex: I find the work of Milt Kahl incredible!
Bella: Peter Millard, he came and did a talk at my uni and I love his stuff. He kind of proves that animation doesn't have to be like Disney for people to love it!
Callum: I get most of my inspiration from YouTubers that work within the medium. I always love picking up tips from the likes of Ben Marriott and find fantastic inspiration from Olof Storm's amazing frame by frame animation time-lapses. There's so much great content out there, whether it be mainstream media like film, or tutorials in various corners of the internet that have been heavily overlooked. That's something that I love about the industry I'm a part of.
Q4: What's the most difficult part of your work?
Louis: Spellimg Mistaks 😂
Oliver: Trying not to lose track of time! I'm a perfectionist, so it's very easy for me to spend way too long redrawing something over and over to look just right. There's a stage where you have to accept how it looks and move on, possibly coming back to it once you have time to spare.
Alex: Getting past creative block when it happens.
Bella: Probably getting so wrapped up in certain parts of the project, you have to learn when to move on to ensure the whole piece comes together as a whole.
Callum: In my opinion the most difficult part of the job sometimes is having to silence your own creative vision to ensure that it doesn't impact a client's creative vision. Visions can be contradicting and it's best to keep as parallel as possible to the brief!
Q5: What sort of projects would you most like to work on in future?
Louis: I really like the variation of being able to work on broadcast content as well as smaller projects for people making a difference.
Oliver: I'm looking forward to learning more about 3D computer animation over the next few years as you can do incredible things with it. I'm also interested in experimenting with more stop-motion work in my spare time too, specifically playing with different materials.
Alex: I'd really like to work on projects with a lot of character performance.
Bella: Music videos would be really fun to work on. My friends are I suckers for a good animated music video so I'd love to work on one that we can all watch together.
Callum: In terms of future projects, I would love to work at a greater depth on more infographic style videos as well as advertising and marketing videos. I strongly believe there is still a huge gap for 2D animation within marketing and I would love to be a contributor to that.
Q6: What's your best tip for bringing a story to life?
Louis: It's key to identify the main parts of the story and outline how your characters will move through it first. This is really the hardest bit and from there you can have fun!
Oliver: Storyboarding! It's a great tool for visualizing your work before you've even begun animating. It gives you a chance to confirm the logical flow of your story, and is incredibly helpful for overcoming that daunting transition between coming up with ideas and creating an animation.
You can learn more about storyboarding in our free guide and template here.
Alex: Be emotionally invested in the story you're telling. If you don't care about your characters it'll show.
Bella: Make good characters and really build into the world you're creating. The smallest details make all the difference!
Callum: The main way that I like to bring a story to life is to add a bit of personality to it. Each story has a different voice and meaning! Where possible it's best to give the piece that little bit extra engagement and personality it needs to be brought to life. This could be through color choice or small extra animations. A little bit of WOW.
Thanks to the team for sharing your thoughts with us! If you'd like to work with Sparkol Studio and our team of animators, scriptwriters and project managers then get in contact to discuss your ideas today 👇